Concept

to Delivery
From the moment of contact past the time of delivery, we will be there for our customer. We are fully capable of manufacturing your product through creative design and high quality production with the inclusion of accelerated processing time, minimal variance, open door communication and with reasonable pricing.
Production with Ease, Accuracy & Timeliness
Overhead Cranes: 5 Ton & 10 Ton
Helps us glide heavy molds to any machine
IQMS Computer System
Allows "Real Time" viewing access to presses
Allows us to monitor: Cylce Time, Scrap, Production, Machine Utilization
Data Reporting

Creates better process control
Produces a better part overall in quality
Injection Molding Machine Range – 

35 to 780 Tons
Injection Molding Facility – 47 presses
55 Ton – Fully Electric

Has great shot repeatability for small shots
Holds high tolerances on parts

Sprue Pickers – 4 machines equipped
Multi Axis Robots – 9 machines equipped
Color Feeder – 25 machines equipped
Gravimetric Scale Color Feeders – 4 machines equipped
Pad Printers – 8 machines equipped
Design Capabilities
Complete Part Design…Or as a partner with your product design team
2 CAD / CAM Stations: Solidworks & Surfcam
In-house mold, fixture and gauge design and manufacture capabilities
OVER 100 YEARS of combined mold & part design and part processing experience
Plastic industry experts available for specific design and processing challenges
Prototyping Capabilities
In-house prototyping using our 3-D printing process
Prototypes created economically overnight
ABS plastic prototypes confirm design for fit and function
Prototypes built from your STL files
Conventional prototyping also available
Multi-phase Assembly & Bonding
Urethane foam gaskets
Purchased components & sub-assemblies
In-house machining & drilling
Hot air / Cold stake
Hot plate welding
Heat staking
Solvent
Sonic
Spin
Vibration
Ultrasonic insertion
Snap fit design
Decoration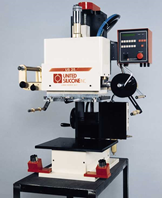 Custom color
Concentrate at press
Pre-color material
Appliques
In-mold decoration
Hot stamping
Pad printing
Roll foiling
Silk-screening (outsource)
Vacuum metallizing & chrome plating (outsource)
EMI / RFI shielding (outsource)
Quality Control
Quality measurement custom tailored to our Customers' requirements:
DEIMLING / jeliho Plastics Quality Laboratory maintains a full range of measuring equipment and tools including one (1) coordinate measuring machine, an optical comparator, a color spectrophotometer, a color light booth, and other quality supporting equipment.
In addition, we have constructed custom equipment to measure impact resistance, liquid flow, venturi flow, metering tip air and water flow testers, and numerous other custom measurement and testing devices.