40 Years


and Counting
DEIMLING/jeliho...Where Ideas Become Reality. We have solutions to any of your injection molding needs. Let us help you grow your business today!
Company Overview
DEIMLING/jeliho Plastics has been one of Cincinnati's premier custom injection mold makers and molders since 1976.
What started in a garage has grown into a successful business that spans North, Central and South America, Europe and China.
In 2016 DEIMLING/jeliho Plastics celebrated 40 years as a custom thermoplastics injection molder and contract manufacturer specializing in highly engineered molded components and assemblies.
DEIMLING/jeliho Plastics' pristine financials assure our customers that we are a long-term plastics partner, capable of making the investments needed to support their changing needs.
With over 250 years of plastics experience, our management team offers a broad range of skill sets and disciplines expected from a large company and the fast, personal service of a smaller organization.
We strive to integrate seamlessly within our customers' design teams from the initial design through the production stage.
The Early Years of Our Company and Founder
Bill Deimling was born in California Ohio with two brothers and six sisters.
Bill meets MaryAnn, his future wife.
Bill enrolls in a machinist training class at what is now Cincinnati Milacron but did not finish the course.
Bill Joined the Army and served for two years.
Bill left the Army and returned to Cincinnati Milacron to finish his training as a machinist. Bill started working full time as a machinist.
Bill and MaryAnn are wed and Bill starts working at Kenner Toy Company.
After working in several machine shops, Bill started doing custom side work in his garage as a tool maker.
Starts working at US Precision Lens as a toolmaker honing his skills.
Bill started Deimling Tool in a 600 square foot warehouse space at Bert's Plastics.
As business grew and Bill moved to a 1550 square foot building behind Fastco Chain Shop on West Main St in Amelia, Ohio.
Tom Richards was hired as a machinist and Bill's first employee. Tom retired after 39 years as an integral part of the Jeliho family. His devotion to the company helped make Deimling what it is today.
Bill bought two acres on Ferris Rd in Amelia, Ohio where he built a 4000 square foot building to facilitate his tooling business.
Tom Soudrette was hired as a tool maker and grew with the company over the years. Tom still works for Deimling as the Tooling and Engineering Manager with over 35 years of experience. Tom is also the primary point of contact in helping our customers go from concept to production in their projects.
Bill built a injection molding facility adjacent to Deimling Tool. In an effort to provide a one stop solution for customers, he purchased 12 injection presses and founded Jeliho Plastics.
As Deimling Tool/Jeliho Plastics grew, more warehouse space was needed. Bill built an additional 8000 square feet of warehouse space to house molded finished goods for our partners.
Deimling Tool/Jeliho Plastics continued it's rapid growth, and soon more space was required. Bill purchased 13 acres on Bach-Buxton Rd and built a 32,000 square foot facility; this is the current site of DEIMLING/jeliho Plastics, Inc.
Deimling Tool and Jeliho Plastics merged to DEIMLING/jeliho Plastics Inc. Your one stop partner, from Concept to Delivery.
At the Bach-Buxton location a 53,000 square feet addition was added to expand manufacturing capability.
The third and current expansion of the Bach-Buxton building added over 23,000 square feet of office, manufacturing, raw material and warehouse space.
As we enter our 43rd year of operation, DEIMLING/Jeliho Plastics, Inc. is poised and ready to grow with you to be your one stop partner for injection molds, plastic part production and specialized assembly requirements. Meeting all of your needs now and well in to your future. Come see the difference our family can provide!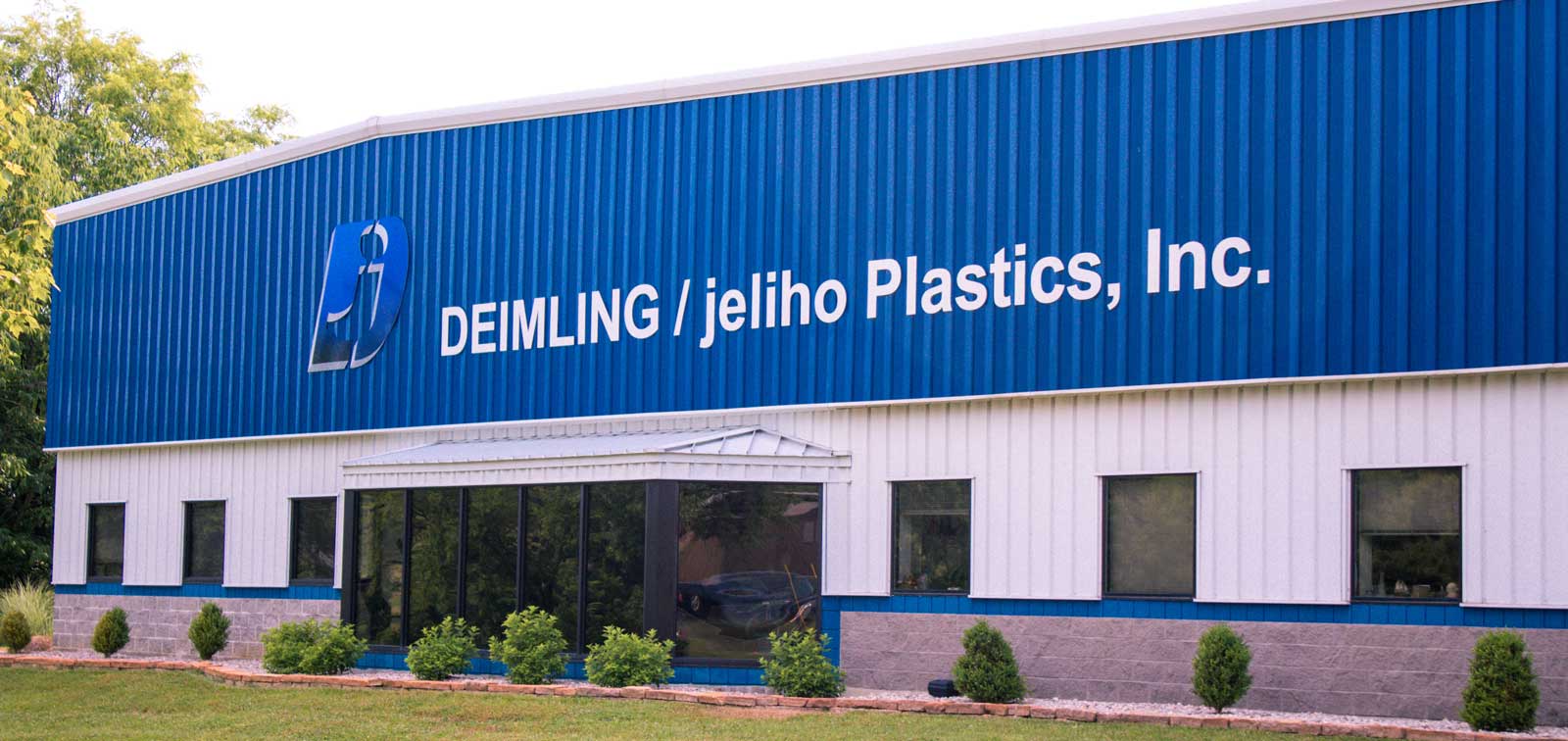 Our Business Expanding
The business began growing, and Bill decided he needed more space, so he set himself up to move into a 1,550 sq.-ft. building, in the back of a Fastco Chain shop at 80 West Main Street in Amelia, Ohio. But right before he moved, his business was burglarized of almost all his tools. He was in a bind with no tools. This is when he hired a former co-worker, Ron Renkel who was looking for work and had his own tools! Bill's first employee.
Shortly after setting up in his new location in the chain shop, a man walked in and wandered back to Bill's machine shop and was looking around. Bill and the man started a conversation and Bill liked him right away. This man was familiar with Bill's work because he worked at a nearby tool shop. Bill asked him if he wanted to change jobs, and the man said; 'yes'. His name was Tom Richards! And, Tom, who only recently retired, had a profound effect on this company throughout his career here.
Business was again growing and an opportunity came up to buy four acres of land on Ferris Road in Amelia, Ohio. Bill bought it and built a 4,000 sq.-ft. building, saying to himself that he couldn't imagine ever needing more space than that. In 1981, Bill hired Tom Soudrette. Eventually, Tom was positioned to oversee mold making and is still here today working with our customers and keeping the toolroom running smoothly. In 1983, Bill started thinking of acquiring injection molding machines. As a mold maker, he could only supply half of what a customer wanted – molds, but not molded parts. He wanted to be full service to his customers.  So, next to the tool shop, he built a molding shop, where he eventually squeezed in 12 injection mold machines.
A lot of people have come and gone as the company has grown. Bill's wife and business partner, MaryAnn and her sister, Gilda Vilardo, managed the front office for years, while Bill stayed focused on business operations. In 1985, Bill hired a loyal and hard-working 20 year old, named Tony Dominick. Another employee that was hired on initially as a 'hopper boy' in 1986 was Jody Bratten. Both are still here today and are actively involved in helping meet our customer's production schedule. In 1988, Bill added an 8,000 sq. ft. warehouse.
With expanded business, more diverse customers, and a growing labor force, higher quality standards and consistent quality became increasingly more important. Bill needed a dedicated Quality Manager. In 1991, Bill hired Don Browning. Don created and implemented our first certified quality system. Although Don recently transitioned out of his Quality role and retired, Don has had, and still does have, a significant impact on the company!
DEIMLING/jeliho Plastics continued to grow through the late 1980's and early 1990's. Soon the Ferris Road facilities weren't enough. Out of building and land space, in the spring of 1995, Bill bought 13.1 acres on Bach-Buxton Road and built a 32,400 sq.-ft. building that would become just the first phase of three building expansions. Just last year, 2015, Bill added another 23,000 sq.-ft. which put our factory footprint over 108,000 square feet!
In 2000, another significant employee came on board, John Newberry. John acted as our CEO for 15 years and recently retired. John had a huge effect on our operation and successes. He added an expertise in molding that helped us rise to the next challenges. That torch has now been passed on to Jim Krezel. Lisa Walsh (at that time, Lisa Deimling) came on board in 1995. Lisa Walsh is our Chief Financial Officer / Administration Manager. Jennifer Miller (at that time, Jennifer Deimling) came on board in 1998. Jennifer Miller is our current Marketing / Sales Account Executive.
Holly Greaves was hired on and is our Event Coordinator / Short Shots Editor, and performs other functions for Bill outside the scope of the company.
Many other people have come and stayed through the years, Pat Valentine 1991, Wil Phipps 1995, Jeremey Madison 1999, Dan Arvin 2003 (retired). And a host of inspectors, operators, assemblers, etc.
On a sad note, Lisa came to the company at Bill's request because his brother-in-law, Ron Giwer, died in the car with Bill of a heart attack after picking Bill up at the airport on February 9, 1995. Ron will always be missed. If you look in the offices of Brandy Summerfield and Wil Phipps, you will see the flag that draped Ron's coffin. He was an Army veteran.
Bill's goals for the company have never been just to increase sales and profit. They have always included providing the best product and services, on-time, at a competitive price to our customers. Most importantly, Bill wanted to be a good neighbor by providing jobs and opportunities for local people and businesses. The company is expected to do the best it can for our employees, suppliers, customers and community but, also to make a profit doing it.
What started out in a garage has turned into a successful business that spans North, Central and South America, Europe and China. Our list of customers include some of the biggest local, national and international names in consumer and industrial products and commodities. In the course of the company's 40 years, the services we offer to our customers have grown from complex mold design and construction to injection molding and a full range of injection molded products. In addition to Deimling providing full vertical integration of plastic products, we offer secondary services including sonic welding, pad printing, part testing and assembly to name a few.